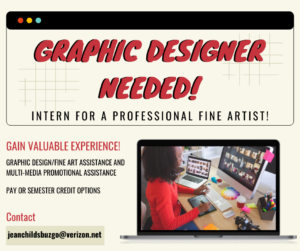 Jean Childs Buzgo, Professional Fine Artist, is looking for a graphic design student or alumni interested in working on promotional materials. Work will include designing postcards, promotional materials, social media posting, generating promotional emails, website updating, image photographing and altering to make it look as close to the painting as possible, portfolio preparation, and producing printer-ready files for a book of the artists' works, as well as general fine art assistance.
She is looking for someone who is highly creative, motivated, takes initiative and can work both independently and collaboratively and also in the studio. This is a great chance to get some real-world design experience for your resume and learn directly from an experienced artist in the corporate design and fine arts worlds. Buzgo has been a professional fine artist since 2008, she is a TCNJ alumni, graduating in 1995 with a BFA in Graphic Design with a Packaging Design and Illustration Specialization.
Buzgo won Best Portfolio for her graduating class and The Art Director's Club of New Jersey Scholarship under Professor Mackie's guidance. After working many years as a graphic designer, she made the switch to fine arts.
If you're interested, please send an email to Jean Childs Buzgo at jeanchildsbuzgo@verizon.net.  Please indicate your interest, a brief description about yourself, a resume, and some samples of your work. Thank you!