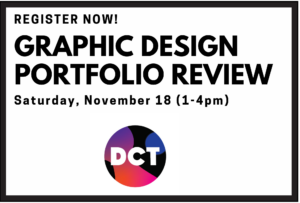 Graphic Design Portfolio Review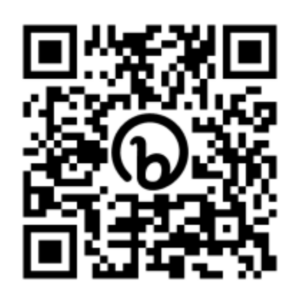 Saturday, November 18 (1 – 4pm) 
Please complete this short form (scan QR code) to be added to our email list. Fill out the form to sign up for the portfolio review. Contact DCT@TCNJ.edu with any questions.
---
Visit TCNJ!
Our department strongly encourages prospective families to attend an upcoming Lions Day Open House. These campus-wide events are a great way to meet our faculty and student representatives. Stop by during the academic info fair or at the department breakout sessions in the AIMM Building.
Questions? Please contact us at dct@tcnj.edu.
---
Apply to TCNJ
For prospective students interested in applying to the Graphic Design program, please visit the Graphic Design section on the additional program requirements page.
In order to apply to The College of New Jersey, prospective students should submit an application via the Common Application. You can select our majors (IMM or Graphic Design) as either your primary or secondary choice of major at TCNJ on the Common Application. For prospective students interested in applying to the Graphic Design program, please read the Graphic Design information listed below and on the additional program requirements page.
Additional Information
If you would like to send any supplemental information about yourself to The College of New Jersey, you are able to do so within the "Additional Information Section" on the Common Application. You may also send a resume to the Office of Admissions.
Portfolio Requirements
Interactive Multimedia, BA: A portfolio is not required for admission.
Graphic Design, BFA: A portfolio is required for admission.  See additional information below about this requirement.

---
Incoming First Year Students
Incoming Transfer Students
For students considering transferring to TCNJ from another college or university, the New Jersey Lampitt Bill allows students holding an AA or AS degree to matriculate with all or most of their non-major, general education requirements already satisfied. (These requirements comprise the College Core curriculum at TCNJ). Applicants are encouraged to read this FAQ on TCNJ transfer admissions.
Please visit the Office of Admissions website for more information about the admissions process, tuition expenses, and financial assistance
---
Graphic Design Program Admission (Graphic Design, BFA)
Admission
Acceptance to the BFA graphic design program requires a successful portfolio review as well as admission by the College. Applicants would still have to submit the remaining required academic criteria for admission and be comprehensively reviewed prior to admission to the college. Our faculty members are happy to provide advice on how to improve the portfolio before final submission.
For NEW students submitting their portfolio online via SlideRoom, please use this link.
For CURRENT TCNJ students (i.e. internal transfer); please email DCT@tcnj.edu for a link to the appropriate form.
Portfolio Requirements
A portfolio includes 6-12 images of original works demonstrating the applicant's creative and technical, and aesthetic ability. Work may include, not limited to drawing, 3D objects, painting, collage, computer work, animation, video, photographs. We look for sense of composition, color, attention to details, imaginative, etc. Computer graphics is optional.
The portfolio should consist of the following three components:
DIGITAL IMAGES OF 6-12 WORKS OF ART *
Professional presentation of the work is important. Please present documentation that is in-focus, well-lit and shows your best work.
All work must be original. Copies of other artists' work including anime, cartoons, graffiti or tattoos should not be included in the portfolio. If possible, please also include at least one image from a sketchbook.
Submission Guidelines
Include a numbered image list along with your submitted work. Indicate your name, date of completion, materials, and dimensions of the individual pieces.
To conform to our viewing format, each still image file may be no larger than 5 MB and no larger than 60MB for video.
Please note that image files may be jpeg, png, bmp, or tiff format. Video (file formats include .m4v, .mov, .mp4, .wmv, .flv, .asf, .mpeg) are considered as part of your selection of 6-12 files and should not be used as a method of showing examples of additional still images.
Do not include titles or credits within the videos. If you wish to submit a longer video, you may post the video to your own Web site, YouTube or Vimeo and provide a screenshot with a link in the application. If you are including a link to a video, please provide details such as title, running time and date created.
One Page Personal Essay Requirements
Please include a short and precise statement (approximately 200 words)  that includes a brief description of who you are and your experience in art and life, and why you are interested to be a graphic designer
Please follow the SlideRoom submission instructions carefully. Please DO NOT mail a portfolio CD or DVD. If you experience difficulty uploading your artwork, you must contact SlideRoom technical support at support@slideroom.com for assistance. Please allow one day for a response. You may also consult the SlideRoom Helpdesk and FAQ at SlideRoom Support.